Another exciting installment — we finally hit the road this day! Eventually…
Day 1 (Friday, the 29th of March 2013) (by Chris)
Now we actually get to normally numbered days: Friday was scheduled to be the first day of the road trip! However, the first chunk of the day wasn't actually spent on the road; it was spent doing yet more sorting. I'll spare you the details. I never knew we could have that much to sort out and resort, but we did. All the while, Nannie was trying to clean the house around us, as SJ's brother would be coming to stay that night, and she had to get things ready for him! Things got a little bit frantic, but we left around noon. Nannie had asked SJ which way we'd be going, and where we were aiming for while we were getting things together. SJ told her, "North!" We hadn't actually decided on that yet, or even looked at the map yet, and we think this horrified Nannie a bit…
That's not strictly true. I had looked extensively at the map in planning the trip before we left; I had to decide where we could get to, where we couldn't, and which order we'd go in. I'd arranged to stay with various relatives along the way, with tentative dates for each of them. The path, of course, was circular. When it came to the nitty gritty details of each day's path, though, you have to understand that part of my joy at roadtripping is NOT having a fixed, firm schedule. After dealing with English public transport for a solid three-year chunk, part of why I NEEDED this road trip was the freedom to be able to just stop if we found something that looked interesting – the freedom to go and stop and go again at will, rather than dictated by a timetable that isn't followed anyway. So, while the highlights were planned already, the in between wasn't. On this first chunk, our first planned stop was in Michigan, 1100 miles away, so we had a bit of flexibility in how we got there.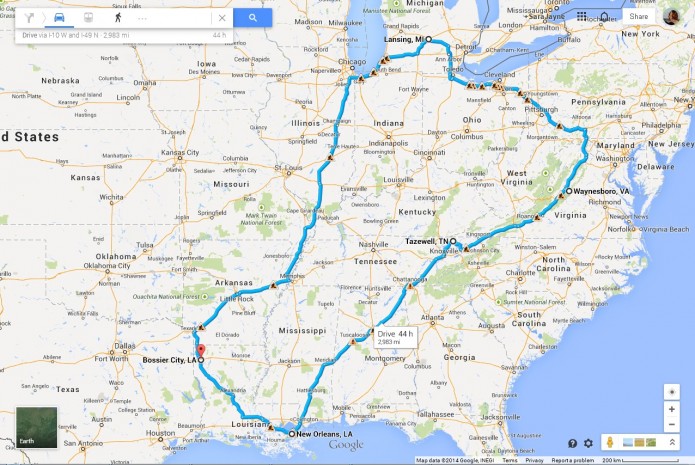 However, even after leaving Nannie's, we still weren't On The Road proper: we had a number of stops to make around Bossier City before we could leave, including SJ's parent's house. SJ's dad was waiting for the new waste bag for their riding lawnmower when we called by, to be delivered by a guy in an 18-wheeler. I remember that sort of thing from when my lathe was delivered: it's a very strange experience to see this big truck pull up and a guy checking that you're waiting on a delivery.
We also headed to Target (now that it was actually open). Now that we had a better idea of the things we needed for the trip, SJ went around picking up those things while I went and hunted for jeans. I apparently earned myself Good Husband points by actually trying them on there (in the fitting rooms, I hasten note, not in the middle of the store), and when one pair didn't fit I even went and found a different pair and tried those on too! There were several other errands, including extending the Junk Food Tour of America with Arby's and an Icee for me. I'll spare you the blow-by-blow, but I will say I still miss white cherry Icees, and Arby's was actually surprisingly decent – less greasy than I remember.
The last stop we had to make was for doughnuts. We had been trying to get to Southern Maid, the makers of the most tasty doughnuts in the entire world, and the well-deserved recipients of the only commercial endorsement Elvis Presley ever made in his life, but we had consistently failed to get out early enough on the previous days to get to the Southern Maid near Nannie's in time to get any. We remembered that there was one on East Texas Street, and that one had been open later the last time we had been in the US, so we decided to try it just in case.
Thankfully, they were still there, and still open. Not only were they still open, they had doughnuts too! We bought a variety to last us a couple of days – although a couple of them didn't last very long at all for some reason. Outside Southern Maid, surrounded by the delicious smell of awesome doughnuts, we pulled out the maps and decided where we wanted to try and get to that day, eventually settling on aiming for Memphis, Tennessee following I-220 East to I-20 East, and then I-55 North.
Bossier City, LA to Grenada, MS. "And so it actually begins" (by Chris)
Day mileage: 340
Southern Maid Donuts, 4701 E Texas St, Bossier City, LA 71111 to Super 8 Grenada, 1451 Sunset Dr, Grenada, MS 38901 via Shoney's Restaurant, 1526 Sunset Dr, Grenada, MS 38901
And then, finally, around 2:30pm we got on the road!
Ever since we'd washed the car the day before, we'd started to hear a high-pitched whine when the car was moving at speed. I'd tried to work out what was causing it, but it was over on the driver's side and I couldn't really root around to work out what was going on. It was pretty easy to ignore at city driving speeds, but when driving at highway speeds it grew into a loud, high-pitched whine akin to the collected, extended caterwauling of an entire girl's school of petulant, spoilt teenagers being fed feet-first through a woodchipper. Somehow SJ managed to block it out, but it slowly began to drive me ever so slightly unhinged. I should imagine the girls would be considerably louder, dear. Also, you left out the "more" in your last clause. 😉
Our route east along I-20 took us south of El Dorado, Arkansas. SJ has an old acquaintance there, and was considering diverting north to visit her. We eventually managed to contact her son, and he told SJ that his mother was actually over in Dallas visiting a relative, and would be there the entire time we were in the US, so we wouldn't be able to meet her in El Dorado. The northward detour no longer being needed, we continued along I-20 and tried to get hold of SJ's brother in Memphis to try to arrange visiting him. This proved to be more than a little tricky: he had only fairly recently moved to Memphis, so we had no phone number for him, I sent him an email (that data connection was starting to be useful already…) but had no expectation of a quick response, and then SJ suggested that I try to contact his wife through Facebook. Now, I Don't Do Facebook, but under the circumstances I agreed that it was probably necessary – unfortunately, trying to log into SJ's account from the phone tripped security measures, and we were unable to get past them (in no small part because they didn't work properly).
So, we decided to shoot for Memphis anyway, passing through Monroe, into Mississippi and through Vicksburg and then around Jackson on the loop (also called I-220. At this point I should have started to suspect that the US road system had it in for me) before joining I-55 north.
As we approached Canton, Mississippi we drove past the absolutely immense Nissan plant. I can honestly say that, until that point, I had never seen a single building that big, it just seemed to keep going and going as we drove past. Measuring it on the map now, it comes out at over 1.63km (1 mile) of continuous factory!
On we drove into the evening, north past places with names like Pickins (one of the many names I enjoyed saying in quite silly tones during the journey…), and past Holmes County State Park (we never found a corresponding Watson County; we were most disappointed!). Soon after we passed Winona we started to get really hungry, and as we approached Grenada, SJ saw a sign for Shoney's. "Shoney's! We have to stop at Shoney's!" SJ exclaimed, practically bouncing in the seat. "It'll probably be foul, but it's a nostalgia thing, you'll just have to go with it." I sat there kinda going "Bwuh?! Well, you're driving!" so we pulled off the interstate at Grenada and passed a variety of hotels before spotting the Shoney's sandwiched between a Holiday Inn Express and a Wendy's.
SJ warned me that Shoney's would have a menu and a buffet. We checked out the buffet, and then the menu, and decided to go with the menu (neither of us are great fans of buffet restaurants): SJ had a salad, and Philly Cheesesteak sandwich she didn't have to cook for a change, and I decided to try a Turkey Club. The server was helpful, cheerful, and competent, and the food was tasty. After a few minutes I looked up from my food and had to exclaim, "Wait, there was a sandwich on that plate, I saw it!" SJ must have been really hungry to have inhaled it that quickly! Our original plan was to share main dishes at restaurants (having gotten used to the smaller portions served everywhere outside the US), but in the end this only happened on a few occasions – and if we'd tried it that night there just wouldn't have been enough food, we were that hungry.
We finished eating at around 9pm, and we were both tired and wanted to stop. We hadn't gone as far as we wanted, but we'd covered over 320 miles, and even though we were still 100 miles south of Memphis, we decided we'd gone far enough, we should just get a room and head to bed. We didn't want to spend too much, so we started with the Super 8 Motel just across the road from the Shoney's (once we managed to get across to it, which was surprisingly difficult even at that time of day). The lobby was nice, the clerk was efficient, competent, and friendly, the price of the room was good, so we decided to stay there rather than traipse around the other properties in the area. She told us that our room was "three doors past the pool," but when we asked her when the pool was open she replied with, "May." So alas, no chance of getting any swimming in before we left in the morning.
We were in a ground floor room, and the motel had exterior corridors, so it was easy to get stuff into our room. The room was clean, decent, and surprisingly spacious, and we managed to get ourselves settled in quite quickly. Unfortunately, the wifi refused to work correctly, and at this point SJ really needed to sort out our money. Thankfully I was able to tether the laptop to the phone, and she used the data plan on the phone to get to the internet. It worked very well, and SJ managed to get everything sorted, but shortly after she was done I noticed my phone behaving oddly: sending data unexpectedly, turning on the GPS, and generally acting odd. I eventually worked out that Prey (an anti-theft app) had decided that my phone had been stolen and had gone into active reporting mode, but trying to fix that was hilarious over a rather pedestrian connection, especially as the Prey website is as slow as molasses going downhill in a Candian winter at the best of times! I eventually fixed it as SJ finished showering, and explained to her why I had been feverishly working away and stressed. Next it was my turn to shower, and we collapsed into bed around midnight.
The data connection on the phone was SO SLOW compared to what we're used to. We determined in the end that the US simply has slower connection speeds than Europe. I feel I should clarify: we each have a smart phone, but we opted to just get the Red Pocket plan on one phone and share it for the duration of the trip. We decided to use the other phone for audio logs, playing music (my car radio doesn't work, and being in a car without soft music on is absolutely torturous to me), etc. Since my phone had the 16GB microSD card, mine became the music & audio storage. Sharing phones was a bit trying at times, but we managed.