It's sunny right now!
I do hope it stays this way. It snowed earlier, but didn't stick on the roads around my house, thankfully, and the sun's melting whatever little bits might have done. Elsewhere, it was thicker.
I really, really hate it when it snows here. Other places can cope, but this place can't. I have vivid memories from childhood, from our winters in Michigan, of deep snow on the yards, but the road completely clear of snow – and once the sun would shine for a bit, even the wetness would evaporate, and the road would be completely dry and safe. I also remember having great fun with a pair of my old sneakers (trainers), a couple of sticks, and some knee-high socks: we stuck them in the mound of snow that the snow plow'd made, simulating a girl having gotten stuck in the snow. We watched from the kitchen window as people passed by and did a double take. Most laughed; it was good.
Click for more …
I also have an acquaintance who lived in Canada for three or four decades before emigrating; she assures me that the scraping noise of the snow plow on the road surface is one of the sounds of winter there. I wish it was so here. Here, the plow stays a good 2″/5cm or more off the surface of the road; the salt they spread behind that plow (one vehicle: pseudo-plow at the front, salt spreader at the back) can't melt that much snow. Not clearing snow means it almost invariably freezes, making the roads perilous – when there's no need for it.
Here's some of the traffic chaos caused by this morning's light snow:
High Peak Bus Company – serves most of the High Peak, the local borough I live in, including the road I live on:

9:03am: Transpeak. We won't be be serving Taddington or Chelmorten due to the weather conditions.
9:51am: Cat and Fiddle closed in both ways
9:53am: Service 199. Will not be serving Peak Dale due to snow
9:56am: Snow is causing problems for services all across the High Peak
10:46am: We have various road closures in the are affecting many services. Cat & Fiddle,Chunal,A515 and A623 are blocked. We are doing our best!
12:23pm: The road conditions are improving but our 58 service remains suspended.
12:35pm: Service 61. Will recommence full service at 13:00 from Glossop.

11:33am: Cat and Fiddle Road:

10:30am: Update on the county council's webpage about closed roads, etc:
All these roads are open and passable with care:

A57 Snake Pass
A537 Cat & Fiddle
A53 Macclesfield Road
A515 Ashbourne to Buxton.

10:50am: Disley Police: Please be aware that the Cat and Fiddle road has been closed due to snow. Other roads over the tops may be affected as well.
That's the roads; the sidewalks don't get cleared or salted, but do get walked on, so the snow there freezes into interesting shapes. You know, for values of interesting that mean "you take your life into your hands by walking on it." Fun times!
How much snow was it? Here's the top of one of our hills, at 10:53am: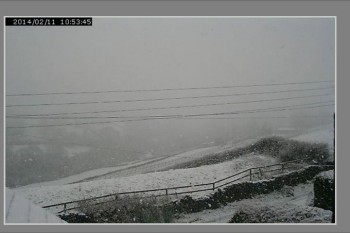 More photos: Bottom of Mam Tor Old Road … Top of Mam Tor … View over Chinley (about five miles south of me) … Buxton town centre (about 15 miles south of me) … and lastly, the view Chris just saw from the train coming into Glossop: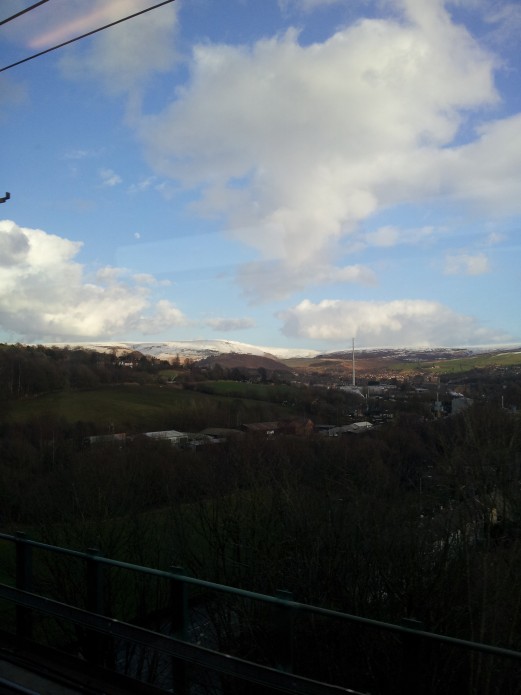 It's pretty up there on the hilltops. It can stay there, and stay off the roads and sidewalks.
Snow shouldn't be so anxiety-inducing; it was fun once, I remember. If only it were managed better, it could be fun again. I know my brother who lives in Michigan loves getting out his monstrous snow blower and clearing his two-car driveway in about two minutes flat. Maybe one day I'll buy a snowblower and just push it in front of me everywhere I go. Just have to figure out how to keep it secure when I go into each shop. Hm.
When I rule the world, I'm putting heating elements under all the roads and sidewalks!