We received our supermarket delivery the other night (I love the fact that supermarkets here deliver; I generally get about one delivery a month to save lugging quite so much – toilet paper, etc is bulky). I don't generally get produce [fruit & vegetables] in these deliveries, generally preferring my local greengrocer's, but the watercress was on a particularly good sale, so I got some of that.
As we were checking through the order to make sure we'd gotten everything, Chris read the back of the watercress and burst out laughing – not a typical reaction, so I was curious. He then immediately turned to me and asked, "Who have you been talking to?" He then thrust the package at me so I could see for myself: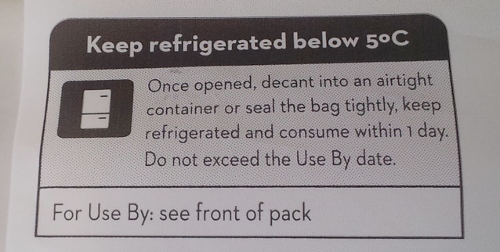 Ah, we're supposed to decant the watercress. *giggle* Decant is one of my favorite silly words, you see. It only means put it in another container, but it sounds so fancy! Posh, even. In this context, slightly pompous, actually, aided and abetted by the "Do not exceed the Use By Date." Or else it will EXPLODE, clearly.
Not to worry – after removing it from this wrapper, we have, indeed, decanted the watercress. It's not languishing about uncontained!