A nearby town, Hayfield, puts on a carnival-type affair every year, the main attraction at which are the sheepdog trials. Here in Derbyshire, sheep may well outnumber people, from what I see in the fields. Apparently sheepdogs (to herd the sheep) are still going strong in these parts, and there are a series of trials, each announcing winners. Hayfield Show is fairly late in the sheepdog trial season, so it's fairly far down the bracket, apparently. I'm not entirely clear on how it all works; that's just my recollection of reading the Hayfield Show program these past few years.
We've yet to see any of these sheepdog trials – we can't get any good information on what time they happen at. This year they've had the best information so far (a running order and a proper website, instead of the lone webpage they've had in previous years), which just confused me further. Previously, I've emailed to ask when the sheepdog trials were, and simply been told (eventually) that they were "in the morning." This year, the website said the trials started at 9 — but the show didn't open til 10, so I guess the public wasn't allowed to watch? I'm still very confused.
Ho hum – we don't go for those, obviously (though I would like to see them sometime). We go because there's quite a lot on that's rather enjoyable. A proper show, it includes entertainment of various sorts. This year there was a strong man, a tug of war series, some shire horses, and much more. It also has stands from charities, etc, doing silly contests to get you to pay a pound to have a go, or selling things, both to raise money for those charities. There are also stands from merchants – I have come across some interesting, good lines at Hayfield Show. There's a craft tent, which is always full of wonderful, delightful things – and has provided us many a Christmas present! (Surface mail cutoff to the US is usually the end of September.) There's a food tent, too, which could be more interesting and varied.
This year it was on 21 & 22 September (it's always planned for two days, though the other year it was rained out for the Sunday, so we were pleased we'd managed to go on that Saturday). We went on that Sunday, and were quite lucky with the weather – it was glorious sunshine and blue skies all day! The field across from the show:
Entering the showground and getting our bearings …
Entering the showground – which is on quite a slope – this is what greeted us this year.
That's the area for the dog show in the foreground, then the Entertainment tent behind it, and then the avenue of children's amusements going on up the hill to the left, and then the food tent is at the end, on the far left (the large white one). Nothing was going on in the dog show ring when we arrived, so we checked out the entertainment tent.
The Thornsett Band was playing. I'm a woodwind player, so I never will understand the fascination with brass bands in these parts; we listened for a bit, but brass bands just aren't our cup of tea, so we moved on quickly.
Turning away from the band, we made our way further into the show – which was very well-attended, as usual.
I watched this portrait painter for a bit – this was a good idea she had, turning so people could watch her work. I just wish she'd made her contact information prominent on that sign so I had it for future reference!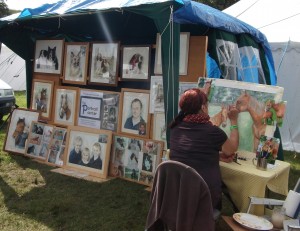 There was a fair-sized crowd around the main arena, where a gun dog demonstration was being given by Terry Frost. (My panorama didn't line up quite right – it was too sunny for me to see the screen – but you get the idea.)
The Buxton Young Farmers' Club Tent
We stopped by the bubble guy, back again this year, but he couldn't blow bubbles while the dogs were in the arena (just up the hill from him). He cut a straw end into a V-shape and flattened it, and showed me how to blow it to make it make a noise like a kazoo. It's great fun! Until he could blow bubbles, we wandered around – we found the Buxton Young Farmers' Club tent – with their youngest member sitting out front, it looks like!
Inside, they had silly games to raise funds, which were fun, along with exhibits of their competition entries – looked like they'd entered in the Young Farmers' Club national competition, along with running a competition just for Hayfield Show. They have a talented photographer in this chapter – someone got second place nationally for this photograph, very well-deserved!
They had a competition to make animals out of food – I found the sheep delightful!
They also had scenes constructed in shoeboxes. I especially like the decorated sides in the last one.
Wood carving – with a chainsaw!
Back outside, we found the chainsaw woodcarvers – Hayfield Show is the first place I ran into them, some years back. I remember standing there, mesmerized by them then. Still really cool to watch. This day, the two of them set up side by side (I think they took turns in the past, or something), so we got to see double action. Andy Burgess and Mike Burgess make some delightful things – I follow Andy on twitter to get a constant stream of his fabulous work there. These are a few of Mike's – I thought the pair of owls was absolutely delightful.
Andy only had a few pieces on display. The hand made a good business card holder til the wind picked up.
And here they are, doing their thing!
We were rather confused about the tractor full of balloons behind them, though.
Anyway, moving on, I spied this great scene to show you all exactly the steepness of that slope we were on:
It takes a bit of getting used to, and it means we get our exercise just by going and walking around! Don't get me wrong – it's not unworkable or anything: I'm very grateful to the family that lets Hayfield Show use this field every year, because I really don't know where they'd have it otherwise. And hey, exercise is good for us, right?
Bubbles!
By now, the bubble man and his assistant were in full tilt, blowing both huge and lots of smaller bubbles.
I was grinning so much when we walked away from the bubbles that my face hurt – it was great fun! 🙂
Looking around the grounds …
After that, we found an out of the way part of the field, under some trees for shade (the sun was quite warm), and had our lunch. From our vantage point, we saw both the pony rides and the tractor rides going past.
After lunch, we wandered around a bit, finally getting a proper look at the police tractor – you'll remember it led the Charlesworth Carnival Parade.
We had fun looking at the various stalls and stands, including this stall selling nothing but wellies!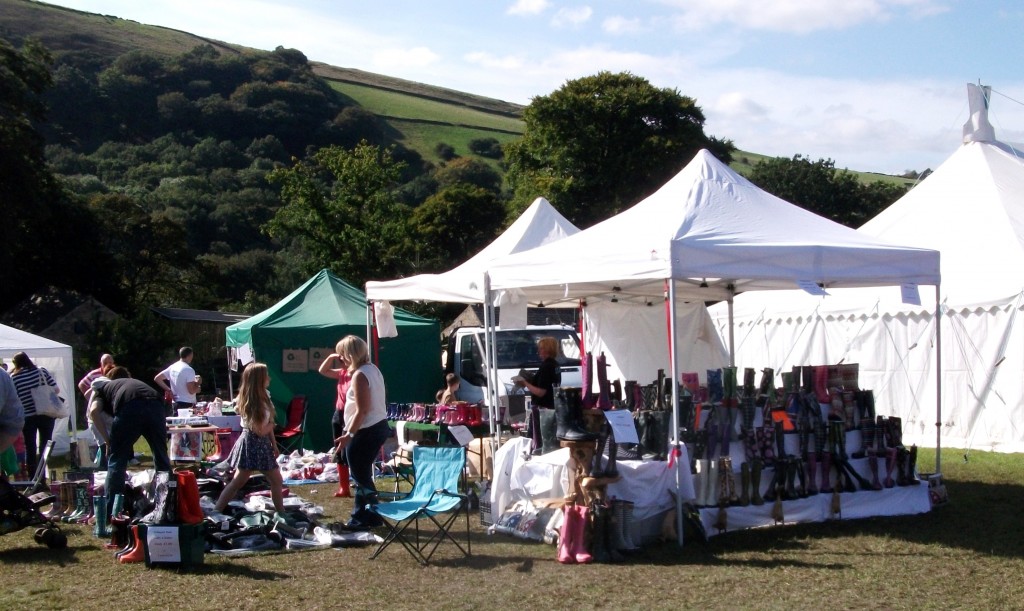 Then we made our way to Kimmo, who was doing a show in the entertainment tent (the band had finished). He pulled up a boy and a girl on stage, and "made them talk" with the lips he held in front of them, and tried his hand at balloon animals – it was all vastly amusing.
That is, until he pulled his dummy out of his case; that part of the act wasn't to either of our tastes. So we wandered off – Chris went to watch the Birds of Prey show, and I went to look around the grounds some more.
Divide and conquer: more wandering
I checked out the tug of war competition. There was a decent-sized crowd at this. It was annoyingly very badly organized, so there was a lot of downtime between tugs. Since this was just the beginning, there were also some vastly mismatched teams – as you get in these bracket situations – so the first ones weren't always fun to watch. Some were, though – like the one with the two guys wearing cow costumes.
I wandered away from that after a bit and dropped off my luggage with Chris (who was still watching the birds of prey show – always entertaining, but I wanted to explore the corners of the field I hadn't gotten to in previous years) just as Ben was showing off his bald eagle. I did stop to take a few photos of this beauty.
After a few minutes, though, the bird started walking around instead of flying, and Ben was saying he didn't know if he'd be able to convince him to fly again – the dangers of working with animals – so I took myself off to the corner of the field, where the local 4×4 group has a track set up and lets people drive or ride around it in their offroad vehicles.
I've never offroaded before – and that's an experience I won't soon forget! The track rutted very deeply the day before with all the rain – aided, I'm sure, by the shovels I saw at the side, as well as by the drivers driving round and round it. It was very uneven; it was a bit like a roller coaster, but a far less even and controlled track.
The man driving me around it kept me entertained with stories. He explained that there's a rivalry between owners of different makes of 4x4s (he named two specifically, but I don't remember which). His mate used to boast that his vehicle could do everything the other make could – repeatedly, til he (the man telling me the story) got fed up of hearing him. So he finally told his mate to put his money where his mouth was, and was promptly bet £100 that the friend's vehicle could do everything his could do.
There was apparently a bit of a crowd around during this event; they extolled him not to follow through with this – it was stupid. He assured them that he had no plans to put the key in the ignition, though, and still he'd win the bet. Once the cash was put up for the bet, our storyteller got 7 adults seated and buckled in legally in his 4×4. He turned to his friend and told him to do that. The friend turned back and said, "You know I can't – I've only got a front seat!"
The friend declared that unfair, so there were two followup challenges, both of which the boaster lost, before he admitted defeat and handed over the cash. Our storyteller handed his friend back his £100 and told him to just keep his mouth shut in the future!
Back together for the strongman exhibition & craft tent
After the offroading, I joined Chris again to see the strong man exhibition. We'd never seen one; this was The Mighty Smith, Adrian Smith, 5th in the World's Strongest Man and three times Winner of UK's Strongest Man Competition. Most of all, he was entertaining, so it was a good time. He started by tearing up Argos catalogs (the phone books here are quite small, but those Argos catalogs have about 1700 pages and are about 4cm/1⅝" thick). He dragged up a member of the audience and asked him to tear one catalog while he himself tore 4 or 5. The poor man failed miserably, of course, and the end time found him trying to tear it page by page.
| | |
| --- | --- |
| | |
After that, he somehow got 3 more victims, challenging all four men to lift this "baby" ball he had – this is the smallest of the set of balls that must be lifted in the strong man competitions. He explained this was the only one he could bring because he came in a car today. That made me reflect on having so much muscle that you have to actually think about how much you weigh when loading up your car.
None of those men could pick up the ball, of course – I think it was 2,000 pounds or something, but I can't be sure. There was another bit where he held up a chair with a girl in it by his teeth (after warning her not to wiggle around, so as to not aggravate his fillings). Then he concluded with a very fun to watch tug of war for all the children who'd been watching. He would help out one side or the other to make it last longer – twas vastly amusing.
Once that show was done, we checked out the craft tent. That was a very aggravating experience, because many of the stands were packing up while we were in there – at 4:30 when the thing's supposed to end at 6:00. We did find a few lovely people who weren't packing up, who did get our business, and who we had nice conversations with. The food tent was even worse – all the vendors were gone from it by the time we got there, about 4:45.
We decided that if we ever run a show, the stallholders will be required to pay a deposit, refundable if they stay til the stated end time. Just like when we rule the world, businesses will all be required to post hours and stick to them – I know, radical idea!
Home time!
So, since everyone was packing up, we headed home. While we were waiting for our lift home (the buses here have been completely unreliable in recent months, and Hayfield isn't that far, so Paul graciously drove us there and back), we noticed this van that made us giggle – why yes, we are 12.
I have a thing about having cotton candy (candy floss) when I go to anything resembling a fair. Much to my horror, the first time I did so in this country – which I think was at Hayfield Show, come to think of it – I found they only sell stale, old, nasty cotton candy. I love cotton candy — this was horrible! Stale, old cotton candy isn't worth eating (life is far too short for bad food), so I simply quit having cotton candy. I lusted over cotton candy machines until my wonderful friend Lisa bought me one of my very own! Woohoo! Of course, after we got home from Hayfield Show, we fired it up and made some lovely, gorgeous, wonderful cotton candy!
I also made some less pretty cotton candy – it can be hard to get it light and feathery sometimes – which we forced ourselves to eat, somehow. Fresh but compact cotton candy is still far superior to old, nasty, also compact cotton candy, trust me.
All in all, a wonderful ending to a lovely day!