HOORAY! I passed the driving theory test! Amazingly, on the first try! Wowza! What luck!
I'm not opposed to a written test for driving – there are all sorts of reasonable things to make sure drivers know, like what various road signs mean (moreso here, since they've used a bunch of symbol ones so they can be standard across Europe), for example. Lots of other things that would occur to me if I wasn't so exhausted just now, too.
Excuse me while I rant a bit and natter on about the test …
I am, however, opposed to the stupidity that is the hazard perception test, rolled in with that multiple-choice ordinary test. Mostly, I'm opposed because the video quality is so grainy that you can barely make out anything, and yet you're expected to be able to tell what the five pixels that are a distant pedestrian are, and what the one pixel that is the biker's face turning is, and so forth. The video quality is from around 1980. Behold, the instruction section before the test clips I saw today at the test center (skip to about 1:51 to see one of the clips in question):
In contrast, here is the video quality I'm used to seeing these days:
On top of that, I learned by searching online last night that what they tell you about when to click isn't actually right. They tell you that the earlier you click when you see a hazard, the more points you get. I'd bought the official practice DVD, and was running it over and over again (trying to be able to suss those few pixels that meant this or that), so I knew the clips, and would click very early when they'd appear … and was getting zero scores. Bwuh?
It turns out that within the clip, there's a certain window of time that is the scoring window. Clicks before this don't count at all for or against your score. They want you to click every time you see a potential hazard, and every step of the way when that changes – so for example, you'd click when you see the pedestrian, again when you see their (one-pixel) face as they turn to see the road, again when they move their body to face the road, again when they get up to the curb, again when they step into the road, and so on. I'm not sure exactly when the scoring window in that scenario opens, but it's most certainly not when you see the pedestrian to start with. This is all sheer stupidity.
Anyway, after I knew that, I did a few more practice clips this morning before we left – and what do you know, I scored way better on them! Lo and behold, I did very well indeed on the test, as well. Amazing what a difference it makes to actually know the grading rubric.
When you click, a red flag appears. At the test center, the red flags accumulate on the bottom of the screen. During the introductory video, as I saw that happen, I was reminded of American football, and how I've heard announcers talk about flags on the play. "There was a flag on that play, we'll have to wait to see what the refs say." "One – two – three! – flags on that play!" Etc. I don't know much about sports, but I think those flags are thrown by the referees to say that the play wasn't done quite right. (If I'm wrong, don't bother correcting me; it'll just go in one ear and out the other because I really don't do sports.)
Chris and I have concluded that Aliens From A Utopia Planet (where everything is perfect all the time) came up with the rules I'm being tested on in this process. So I decided to just make a video game out of it. "That pedestrian isn't walking perfectly correctly! Flag on the play!" "That car isn't driving perfectly correctly! Flag on the play!" "That van is turning! Flag on the play!" When I started the city center (extremely urban) clip, I wondered if there was any limit to how many flags I could put on the play – but it turns out I spent most of that clip stopped at a red light (appropriately enough), so it was actually the suburban clips that drew more flags.
So, yes, one hurdle down. Now some lessons (I do have to master the stick shift and the extremely narrow roads, after all), and then the driving test – however many times I have to take it.
The rest of the day – and a few pictures, too!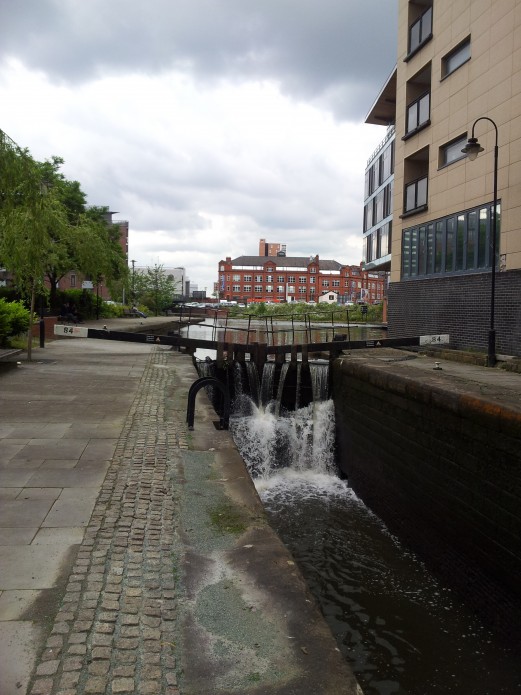 After I passed, as I stood waiting for the elevator, I had a lovely view of a canal, with a small waterfall over a lock wall, right in the center of the city – so lovely and so completely unexpected – and me without any camera! (They're very particular [pdf] about not letting you have anything in the testing room that I thought it best to just leave absolutely everything nonessential with Chris, who was waiting outside the building.) I found Chris and walked him around the building until I found the scene I'd seen from the 6th floor.
It doesn't look as nice from the ground as it did from way up there, but it was a lovely, tranquil place. Chris was amused, because, turning left a bit from looking at the canal, he saw the building I'd jumped through a different ridiculous hoop in — where I'd taken the Life in the UK test (citizenship test, essentially, though it's given before that point in some cases, including mine).
We were also in Manchester for a doctor appointment for me, at Manchester Royal Infirmary. They have this process of three waiting spots: you go from a larger waiting room in the ENT department for everyone, to a smaller one for the section you're going to that day, to a line of chairs in the hall right outside the room you'll be seen in. I guess it's so that even if they're running late, you know you haven't been forgotten – I'm all for it. Anyway, while sitting on the chairs in the hall this time, I found myself being drawn … towards … these … rooms … 😉
Haha, just had to share that with you. After the test, we hopped back on the train immediately – the 3:47pm train is just about the last one before rush hour starts – and headed back to Glossop. I was in desperate need of new shoes, and finally found some. I hate shoe shopping – my feet are very awkward and need all sorts of support that isn't fashionable, so it's usually a frustrating experience – but thankfully the gent at A & B Shoes on High Street made it as painless as possible, and I found a pair that will do. Don't know why I've never poked my head in there before. By then it was 5, and our favorite restaurant, Thai To Go, should be open, so we went to have a celebratory dinner. Except they weren't open yet. The proprietress comes by bus, and it runs late sometimes, as buses do, so we wandered around a bit, watched and anthromorphized the ducks a bit, and wandered back.
It still wasn't open by 5:20, and Chris was ravenous, so we gave up and headed home. We went via the in laws', and told them the news, and told them about the stupidity of that hazard perception test, and so forth. We got home, set our stuff down, etc, and before starting dinner, I tried phoning the restaurant again to see if it was open yet – yes, they'd just gotten there, the bus had indeed been late. This served to reinforce to me why I'm going through all this annoyance with this driver's license malarky – public transport is unreliable, vastly more expensive, dirty, and annoying. I was going to order delivery, but sadly they don't deliver on Wednesdays anymore. So we trekked back out and had that celebratory dinner after all. It was fab, just as we expected. 🙂
All in all, not a bad day!