I thought some of you may wonder about some of the photos I've used in the header of this site (that strip across the top of the screen). If you wonder why I've put that in the plural, try pressing the refresh button on your browser, and look again at the header image. It should have changed. I couldn't decide on just one header image, so there are a few different ones the site will randomly choose from each time you load a page.
I know I should have stuck with ones from England, it being Dampland and all, but I wanted to include some others I like, so the photos actually come from a variety places. No doubt more will get added as time passes.
I wonder if you'll be able to discern what one photo in particular is. I shall tell you about the others, and then see if anyone can figure out the last one.
As will always be the norm, click on any image for a larger version.
Photos from England …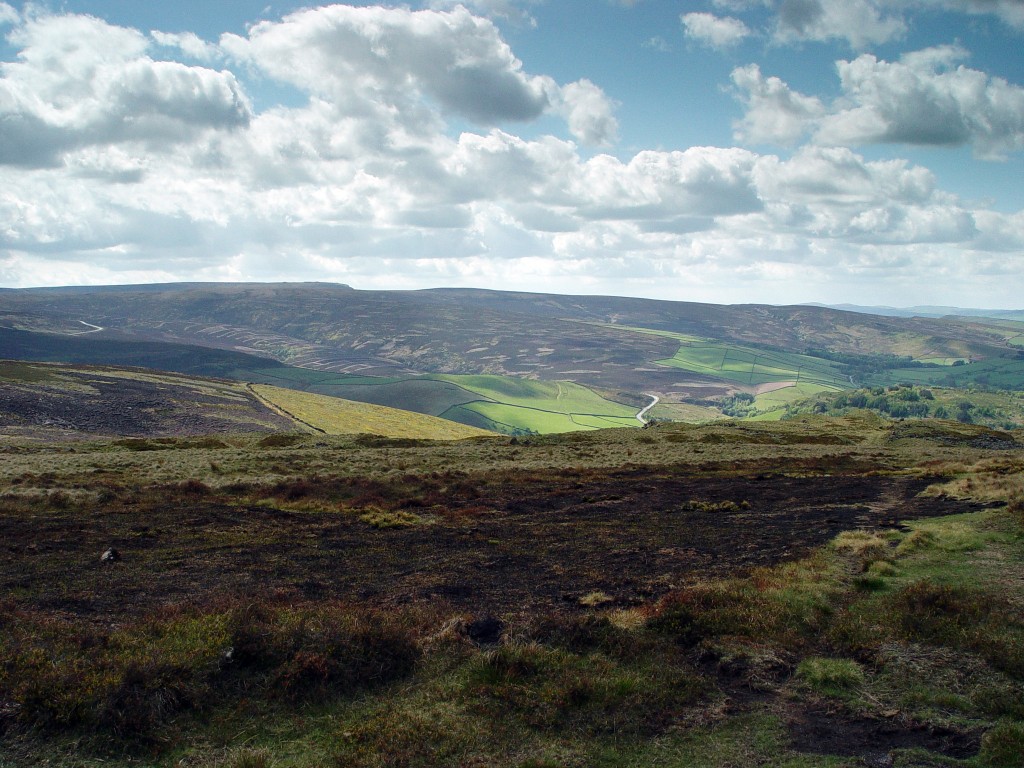 This is a wonderful shot of the Dark Peak – the dark gray gritstone here causes the ground to actually look dark, as opposed to the white limestone of the White Peak – that Chris took … yeesh, a decade ago now. I love this shot; we have it hanging in our living room, actually.
---
These three are all local. The first two were taken on our wedding day, from our reception venue. The last one was taken on one of our walks around Glossop.
---
This is from Longdendale Reservoir. The origin doesn't really matter; the fact is, you can't talk about Derbyshire without some acknowledgement of all the sheep here!
---
The first photo is obvious enough; the second photo is of Glossop High Street; the third photo is of the clock tower of Glossop Town Hall (which I only noticed has a cross atop it while putting this collage together – Edit: Chris tells me it wasn't always a cross – it was a weathervane to start with. Ah, so the weathervane is broken, much like the clock it sits on. Fair enough.); the fourth photo is from Chatsworth's grounds. The last photo is Chatsworth House itself.
---
The next photos are all from Blackpool, a tourist trap of a seaside town. If you ignore the tourist stuff, the beach itself is nice to visit.
---
Photos from Louisiana …
All of these photos are from our first trip together, around South Louisiana in the spring of 2008. I like this first one so much that, again, it hangs on our living room wall as well. It's from Jean Lafitte National Park.
While we were in that national park of swampland, we were both vastly amused to see this:
More swampland…
Sadly, much swampland was at the time being choked by salvinia (floating on the surface of the water in the right-hand picture), blown in by Hurricane Katrina, our swamp tour guide told us. I don't imagine the situation's changed much: it sounded like it was right difficult to get ride of the stuff.
---
South Louisiana has not just swamps, but marshes, too. (One notable difference is that swamps have trees). From our tour, I daresay there is more marshland than swampland; I know many swamp trees got cut down during the Industrial Revolution. I don't know if these treeless swamps then turned into marshes.
South Louisiana is a flat, flat land. It's something Chris couldn't get over when he first visited. Coming from the hills you just saw, he kept looking around and exclaiming, "It's so FLAT!" I'd squint into the distance, point, and say, "It's not flat – there's some trees sticking up over there." 😉 Yes, it's really that flat.
---
Coincidentally, alligators and crocodiles lend themselves very well to the shape I needed for my header image. I quite like having gators in my header images. 🙂 I started out with more, actually, and pruned it down to just these four.
---
On that trip, we made it down to the coast at Holly Beach, as we drove along the Creole Nature Trail. I highly recommend the latter for anyone taken with this landscape; they've built many stops along the way to park and walk along a trail for a bit and really take it in.
---
We also spent some time in New Orleans – happily, Chris loves it just as much as I do. Sadly, none of those photos made decent headers (wide and short photos), except the ones we took of this Mississippi river bridge (it's the Highway 90 bridge, seen from Woldenberg Park, French Quarter).
Photos from the Ozarks …
On that same visit, we did go up to the Ozarks for a weekend. I'd wanted to go hiking, but it was miserable weather most of the time. We did find this very short trail and walked along it – I love the atmosphere of this picture.
---
We also found this great place to stop – randomly, on the side of the road, in someone's yard I think, as you do – to take photos of this stunning view. We even managed to get some with ourselves in them, too. 🙂
---
And one more for you to guess:
Any ideas what it is?